The Nexthink Digital Employee Experience platform

The Nexthink software platform is like x-ray vision for the digital workplace.  IT grants real-time  visibility  into everything from the most important perspective.  Your employees' perspective.   
The Nexthink platform provides everything you need for measuring, monitoring, and improving Digital Employee Experience. It drives the collection and aggregation of real-time data from all of your endpoints, facilitates automated remediation that scales from individual devices to thousands of endpoints, and provides high-level metrics for instant visibility and continuous improvement.
Armed with this real-time data you will be able to strategically staff IT jobs based on the true scope of targeted IT Service delivery objectives.
Nexthink's Platform Consists Of The Following Modules: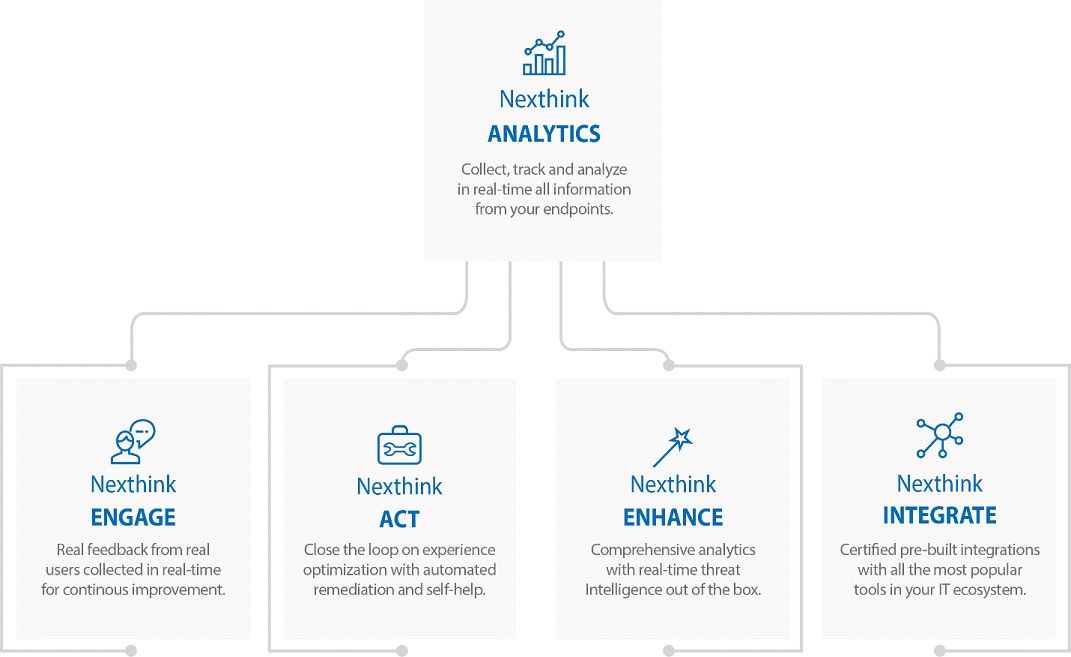 Predefined Investigations And Templates
Pre-defined alerts and investigations help detect issues and their probable cause(s) for faster resolution.
Sample one-click investigations for proactive incident management; fix issues before other users know there are any.

Dashboards For Trending And Analysis
Nexthink ITSM Analytics are delivered with actionable dashboards and metrics for capacity and problem management.
Historical trend analysis can be segmented by location, department and organizational unit.

Third-Party Integration
Nexthink ITSM Analytics data can be integrated programmatically with other ITSM solutions:

Import user (AD, IAM, ERP) and applications (PCLM)
Export endpoint activity to PCLM tools (SCCM, LANDesk, etc.).
Export failures to any incident & problem management tools like ServiceNow and BMC Remedy.
Report analytic events to event correlation systems (Splunk, BMC, HP, etc.).

Data Integrations
Integrating historical end-user activity and failures with other ITSM systems is a key step toward automation and being deterministic:
Endpoints, end-users, destinations: to populate CMDB.
Activity: for operations and capacity management.
Application and network analytics: for early use issue detection.
Trends in activity and failures: for predictive analysis.
Nexthink's Solution To Incident Reduction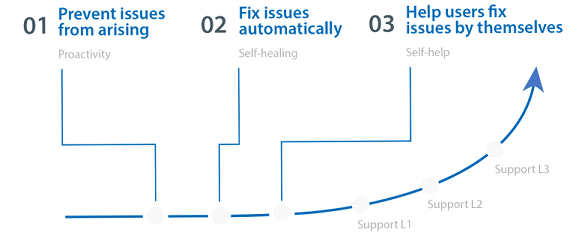 Nexthink's Solution To Safeguarding Compliance

"I've always had the question, 'I wish I knew what was going to happen before it happened'. Now I do."
James Young | Manager, EUC Solutions Support
Western Union
"We have a lens that we didn't have before. Now we have more targeted user feedback to know what matters most."
Emily Schlick | Director, User Experience
Express Scripts